At Goodman, we are committed to sustainability across our global business operations. Embracing sustainability is beneficial to our investments, our environment and our communities.
We incorporate sustainability into our operations by integrating it within our business strategy and continually looking for ways to improve our performance.
Importantly, we consider sustainability early in the planning process for new developments, which delivers better outcomes. We engage with our customers and prioritise their sustainability objectives. Working together, we can ensure sustainability measures improve efficiency and, where possible, improve customer satisfaction by adding long-term value to the property.
OUR SUSTAINABILITY STRATEGY
Goodman's sustainability strategy consists of four pillars:
Sustainable development
Asset management
Corporate performance
People and community.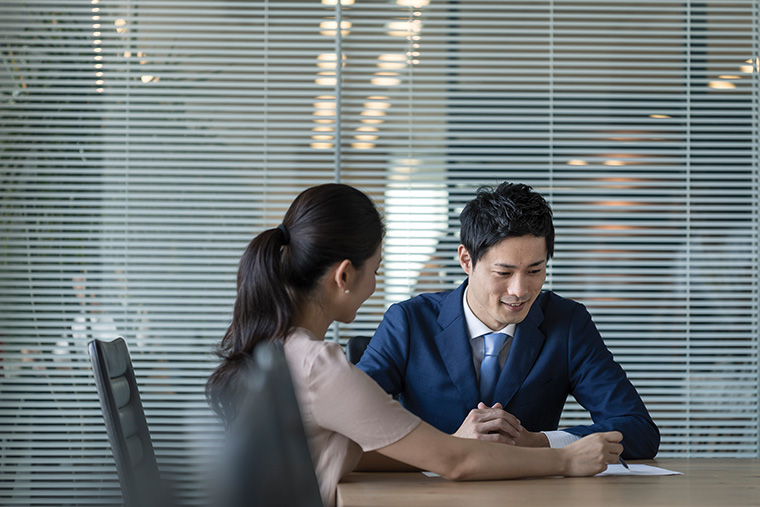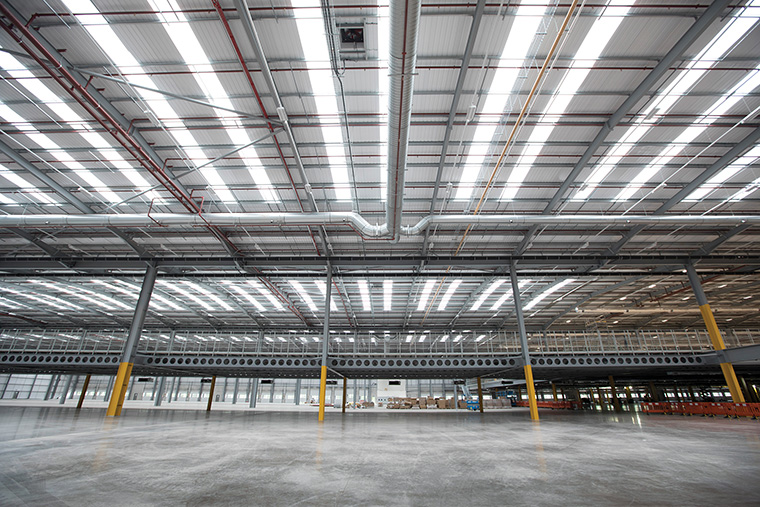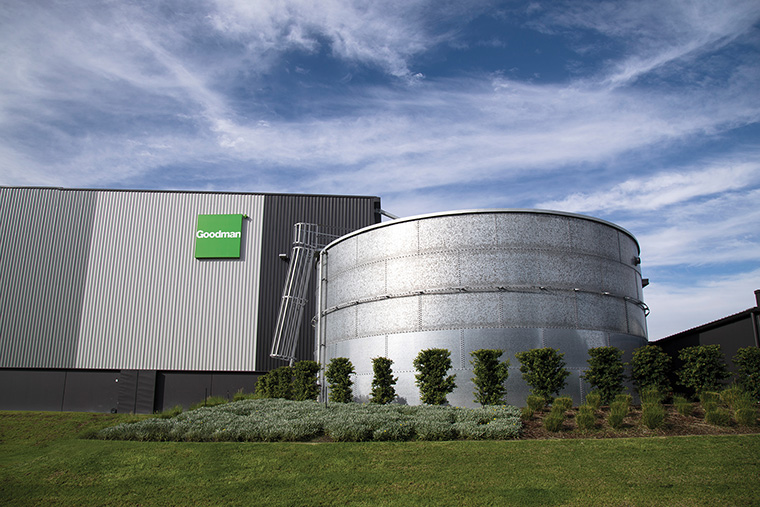 SUSTAINABLE DEVELOPMENT
FY17 highlights include:
100% of Goodman's completed developments included sustainable design initiatives
Installation of over one million watts (megawatt) of solar photovoltaic (PV) panels in Japan and Australia
More than 1.1 million sqm of industrial space with a certified green rating in Continental Europe.
We work collaboratively with our customers and consultants on new projects, incorporating the latest technology and design features to improve the environmental performance of our property portfolio. We focus on aspects such as natural lighting and energy efficiency.
Our development specifications are different in each region; however, we have similar sustainable design initiatives globally. These include:
Translucent roof sheeting to maximise natural lighting
Automated LED lighting to reduce energy consumption
Electrical sub-metering to monitor and measure energy consumption
Glare control to improve comfort for staff inside our warehouses
Materials low in volatile organic compounds to improve internal air quality
Rainwater harvesting and reuse to reduce water consumption
Drought tolerant native landscaping to conserve water
End of trip facilities such as staff showers and bicycle storage to encourage health and wellbeing.
REGION SPECIFIC INITIATIVES
Certification in Continental Europe
We maintain high levels of sustainability in our development specifications in Continental Europe, where obtaining green certification across our platform remains a priority. Our portfolio now consists of more than 1.1 million sqm of certified space, with 230,000 sqm in progress. Most certified assets are certified under the German Sustainable Building Council (DGNB) scheme, with others certified under schemes such as the Building Research Establishment Environmental Assessment Method (BREEAM).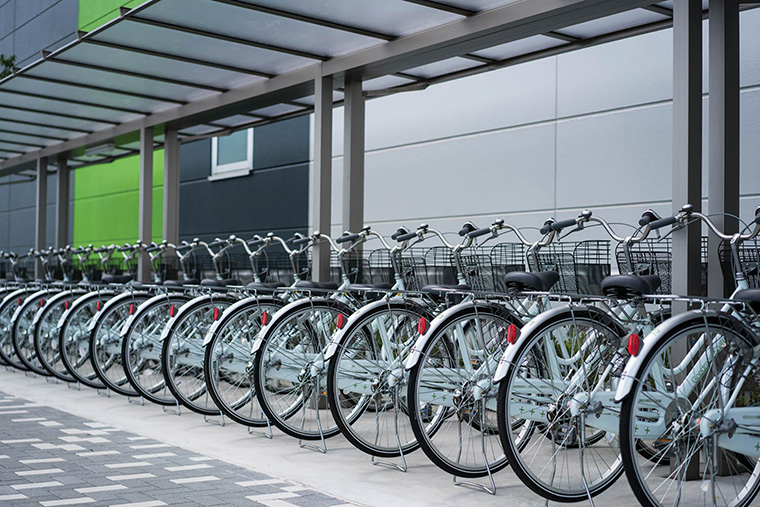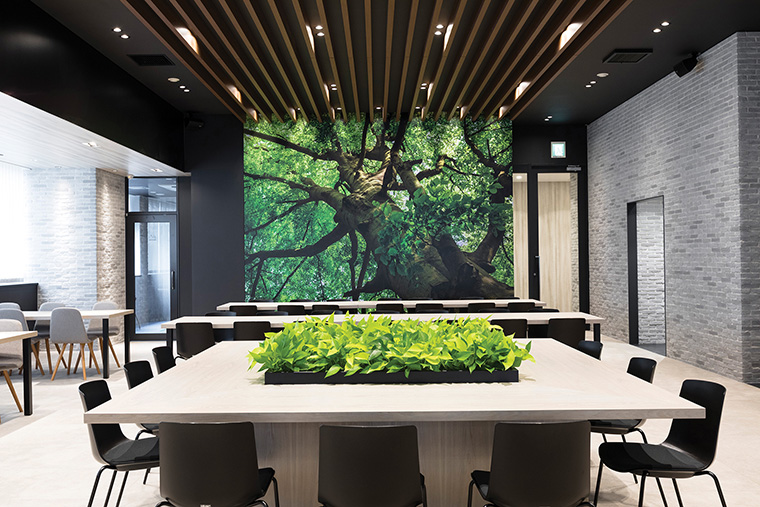 Building resilience in Japan
Our Japanese logistics assets are some of Goodman's highest quality and best performing assets, incorporating a range of sustainability, resilience and comfort features.
The new four-storey Akamatsudai facility in Kobe City is 50,900 sqm. Its features include around one mega watt of solar rooftop PV panels and importantly, the building is placed on raised and seismically stable land to mitigate the impact of earthquakes and tsunamis.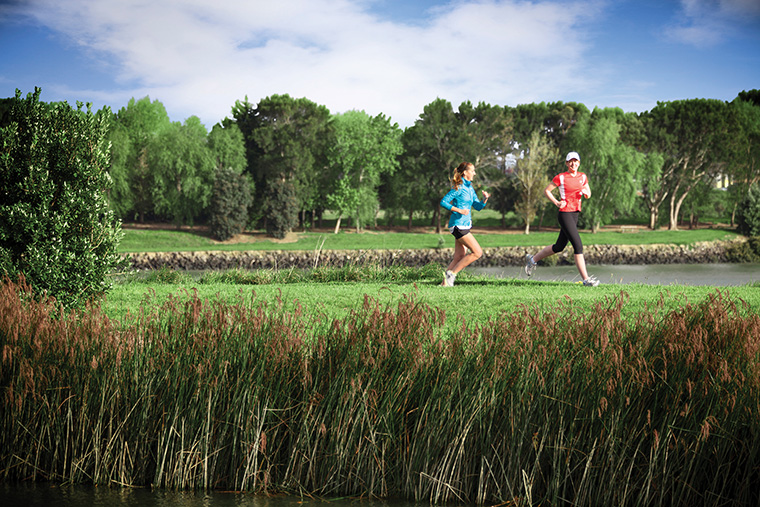 Our developments in New Zealand
We began eight new developments in New Zealand this year, including at Highbrook Business Park in Auckland. Within the Park, we have leased a new 5,300 sqm facility incorporating a warehouse, a concept showroom and a modern office area. Sustainability features include:
Efficient lighting and glazing
Translucent sheeting in the structural bays for natural light
40ha of parklands with esplanade reserves
12km of walking and cycling tracks.
CASE STUDIES
Oakdale Industrial Estate in Sydney
Two new facilities were completed at Oakdale Industrial Estate during the year, including an 8,275 sqm property for DSV, a global transport and logistics operator. When DSV began to outgrow its premises, it pre-committed to leasing one of the new facilities at Oakdale. Sustainable design aspects include:
LED high bay lighting
30,000 litre rainwater harvesting capacity for irrigation and amenities
Solar hot water heating
Native and drought tolerant landscaping.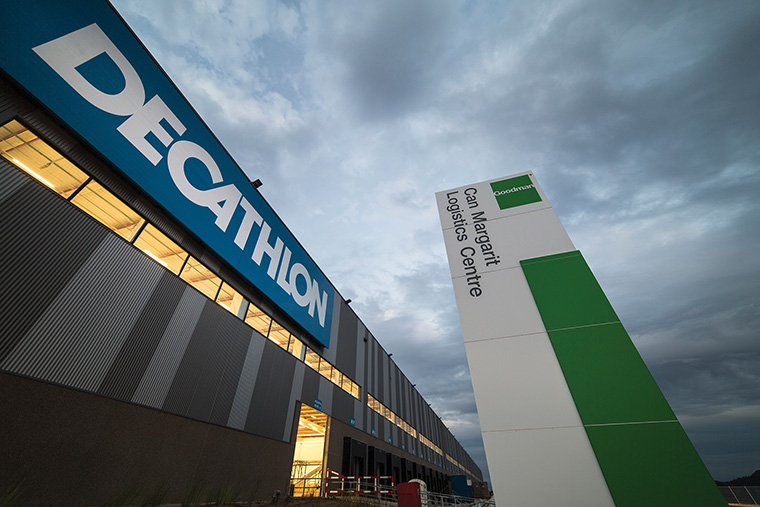 Can Margarit Logistics Centre in Barcelona
We completed a logistics facility for the large sports retailer, Decathalon, in Barcelona. The facility is more than 39,000 sqm and features:
LED lighting
External green areas
Bicycle facilities
BREEAM Good Certificate.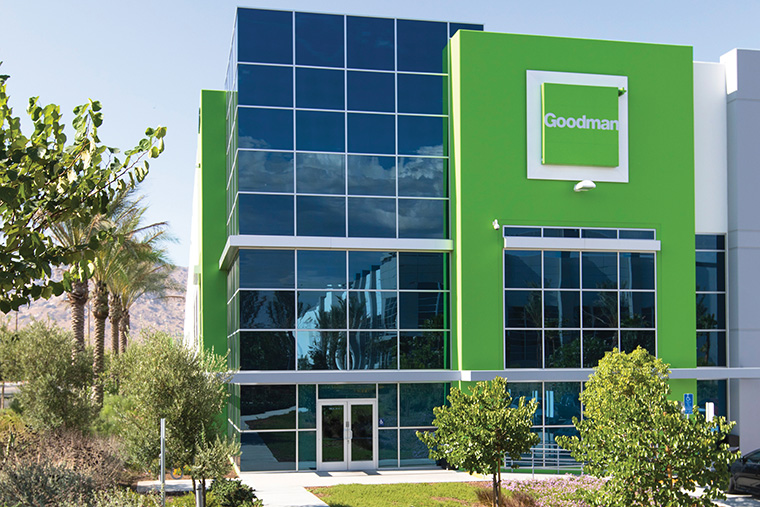 Goodman Logistics Center in Fontana
In a city as eco-conscious as Los Angeles, it's vital to incorporate sustainability principles in developments. Our work on this 59,400 sqm distribution facility in Fontana includes:
Leadership in Energy and Environmental Design (LEED) certified shell
Prismatic roof skylights to maximise natural lighting
Stormwater detention basins
Energy efficient lighting
Drought tolerant landscaping.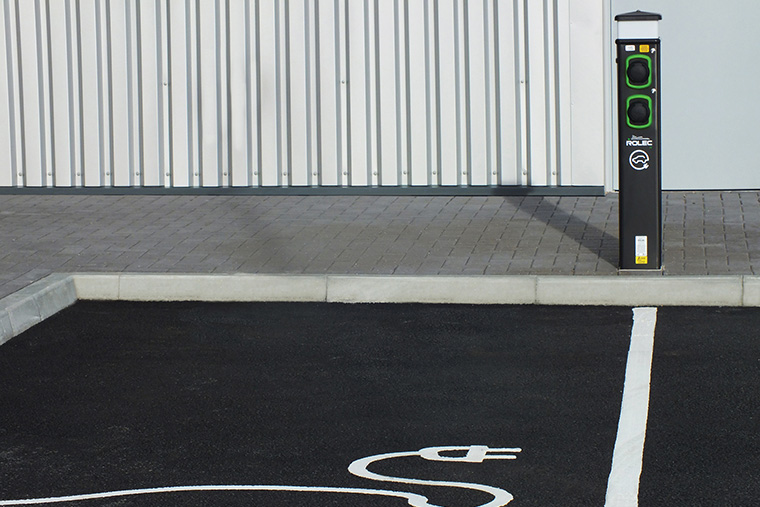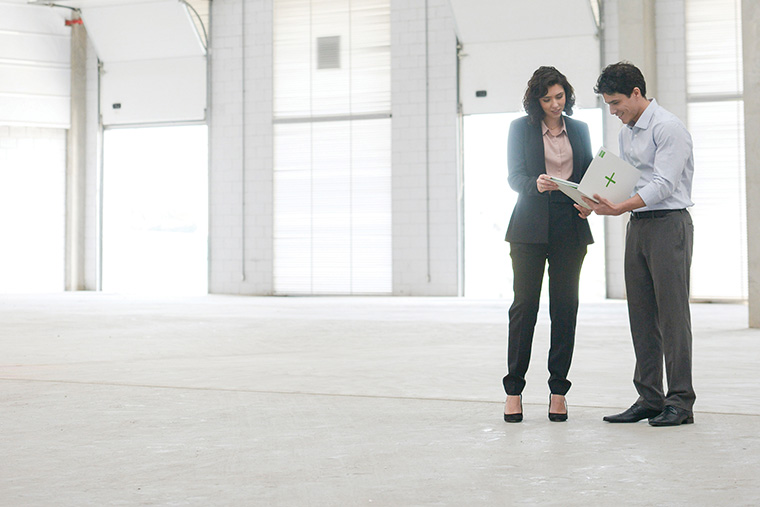 ASSET MANAGEMENT
FY17 highlights include:
A 4% reduction in energy consumption across our Australian office portfolio
Continued roll out of LED lighting in Australia and Continental Europe
A 5.5 star National Australian Built Environment Rating System (NABERS) Energy rating for our Sydney office for the fourth consecutive year.
This involves taking a strategic view of each asset and evaluating factors including location, age, capital requirements and lease appeal. Lighting upgrades continue to be an effective way to reduce energy demand in our stabilised assets.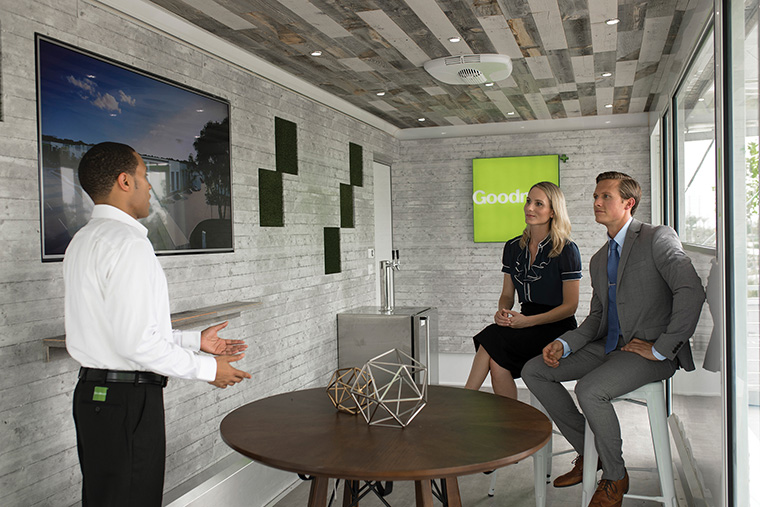 LIGHTING IMPROVEMENTS
Australia
We switched older style warehouse lights with LED alternatives in several Australian sites, including at Erskine Park Industrial Estate in Western Sydney, where 250 high bay lights were replaced with LED lighting. This reduced energy use by approximately 50% and the upfront capital investment was also reduced due to the project's eligibility for energy saver certificates under the NSW Energy Saver Scheme.
The Australian office portfolio's 4% reduction in energy consumption was achieved by a further focus on energy efficiency, demand management and monitoring initiatives.
Europe
We've installed LED lighting in more than one million sqm of warehouse space in Europe, which has the added benefit of increasing the future leasing appeal and property value of the properties.
Hong Kong
Around half of our stabilised portfolio in Hong Kong has now upgraded to LED lighting. The remainder is due within two years. At Goodman Interlink in Hong Kong we:
Replaced around 1,800 lights with LED alternatives. This is estimated to reduce monthly energy costs by around $HK26,500
Upgraded the heating, ventilation, and air conditioning (HVAC) system to one that uses half the power.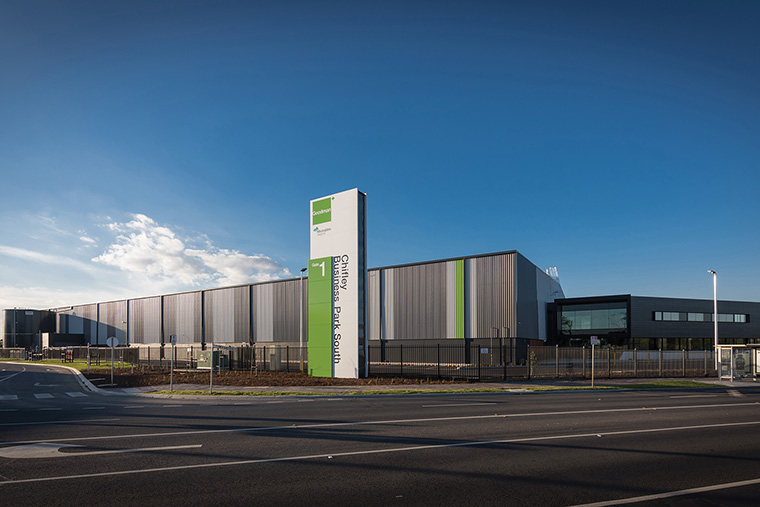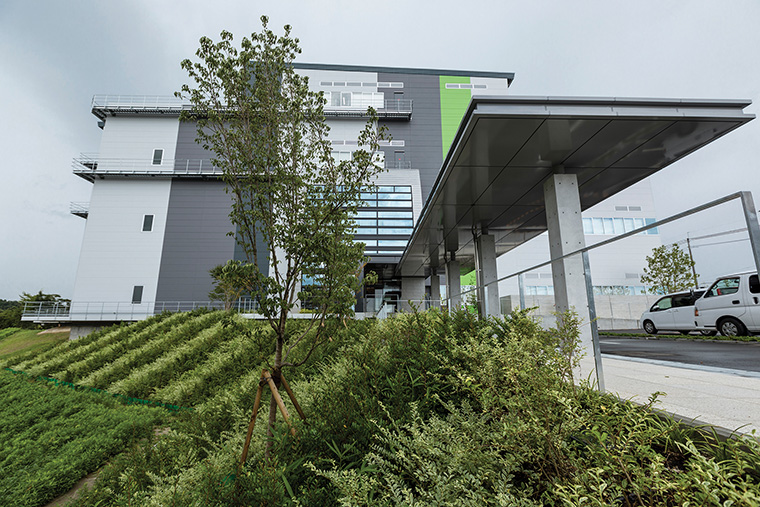 Renewable energy
We installed a further one megawatt of solar PV in Japan this year at Goodman Akamatsudai in Kobe City. This increased our total solar capacity in Japan to more than 16 megawatts. Japan remains our primary region for installation of PV panels, with more installations planned for Goodman Business Park Stage 2 in Chiba.
Global Real Estate Sustainability Benchmark (GRESB)
Goodman Group is a GRESB member. Membership gives us insights into the sustainability trends that impact real estate and access to collaborate with institutional real estate investors, owners and managers.
2017 was the seventh year Goodman participated in the GRESB survey. GRESB benchmarks environmental, social and governance (ESG) performance as reported by participants. More than seven Goodman entities submitted to GRESB including Partnerships from Australia, Asia, the UK and Continental Europe.
Each entity achieved Green Star status and ranked above their peer group average.
Australian greenhouse gas emissions
Goodman's FY17 greenhouse gas emissions (GHG) for its Australian operations are estimated at 37,556 tC02-e. The decrease in our absolute emissions is primarily due to asset sales completed during the year, ongoing sub-metering of customer power consumption and energy efficiencies across the portfolio.
Our GHG calculation includes scope 1 and 2 emissions generated from Goodman's Australian property and building management services, including assets owned directly by Goodman and those within our Australian managed Partnerships. Where sub-metering allows, we have excluded the GHG of our customers.